Author Timea Botyanszki / Category Design / Published: Jan-16-2020
My Favorite Design Projects From Last Year
Yep, we kicked off 2020. This number simply sounds and looks good. So balanced too! This is a number that offers calming energies and thrilling opportunities.
I decided that 2020 will be a GOOD year (Oh yes). And I also decided to write about it. I mean, what better time to start writing a blog than January 2020, right?
Hi, my name is Timea and I'm the founder/owner/worker/manager of TB Contract. Everything I write here is my honest personal opinion (with a positive twist). That's just who I am and I work hard every day to maintain a creative environment . I hope you'll enjoy this journey with me.
If you just landed here from somewhere outside our little universe, let me summarize what we do here in a nutshell:
We curate the products of some amazing commercial furniture manufacturers and help our designer clients find the right pieces for their ( mostly ) commercial projects. You could say we're a rep company, but we're way more than just that. We also import, deliver, and install, when it's needed. We manage all aspects of the production and delivery of our pieces with attention to detail and with a heart. I honestly, really care and making our clients happy is my top priority.
Now you know, so let's continue . . .
I'd like to start with a little reflection on 2019 — We worked on so many amazing projects and had the chance to work with so many talented designers! I met great people this past year that are just as passionate about design as I am. And I'm telling you, the best thing is working with enthusiasts. There's a beautiful flow in that collaboration.
My favorites in 2019 were actually all multi-family projects. Like the Broadstone Vilara, Arden on 5th, the Watermarke in Arizona, the Mag & May, The Charlie in OC, The Flowers Winery in Healdsburg, and so many more. Here's why: when I started this company we worked with only one manufacturer. It was an amazing learning curve ( I mean starting a company itself is that ), but I knew we could do more for our clients. So I added two more manufacturers . . . and then found another . . . and then one more, and so on until we got to where we are today!
The eight brands we represent right now are in perfect balance. Whatever you need for an outdoor project, we have it. From classic to contemporary, teak to polypropylene, woven to fully upholstered, chair to planter...so test us!
These projects I mentioned were the best proof that my idea is working. The designers made a product selection for these projects from 3-4 different manufacturers and connected them with amazing fabrics. We have Tibidabo Chaise Lounges from Varaschin next to Babylon Daybeds from our Lotus line, a Round Sofa and club chairs from POINT with Tibidabo Chaise Lounges (again) in different areas at the Broadstone Vilara. Some Maat Dining Chairs in Urban Grey ( Varaschin ) color were also part of this project but in a different area.
Arden is even more exciting — with Jujube Bar Stools in an outdoor kitchen area, where on the other side of the fire pit you can see the Orlando Sofas. By the poolside we have a line of Fatsia Chaise Lounges with Emma Bergeres and Orlando Sofas in the background. All connected with an extraordinary fabric selection.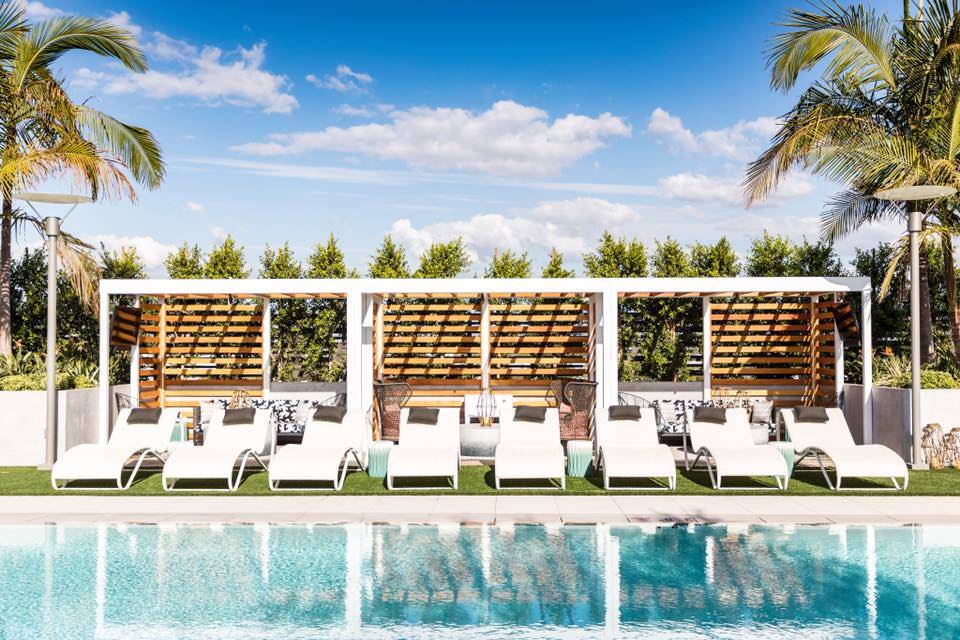 Fatsia Chaise Lounges lined up on the rooftop pool of Broadstone Arden
I'm super excited about all the products that were installed for the Aura Watermarke project, especially the Summerset Bergeres ( because that is one of my all time favorite products from Varaschin, designed by Christophe Pillet ). The designers selected Lineal Lounge Chairs from POINT and matched them with a REVA Sofa from PEDRALI for one area. Amber Sectionals are in perfect harmony with the Summerset Bergeres in another . . . my heart sings when I see projects like these.
I also have to mention the beautiful array of Barite Chaises at Broadstone on 5th and the Summerset Dining Chairs installed for Mag&May--where the designers used contrasting yellow fabric for the seat cushions . . . we had so much fun working on all these projects last year. And we're so ready for all the amazing projects we'll work on this year!
2020, here we come!
If you'd like to check out more projects we've worked on last year, click here for more info.
Summerset Bergeres with Amber Sectionals at Aura Watermark
Barite Chaise Lounges at Broadstone on 5th
Summerset Dining Chairs and Center Base Tables at Mag&May