Hello Friend,
I hope you're well in this craziness happening around us right now. I still can't wrap my head around the whole THING. You?
A few months ago it would have been hard to imagine that something like this could ever happen. In 2020. With the technology, the flow of information, the wit of the human race...but I guess everything is flowing easily these days. Even viruses. I swear, I won't write down its name. The name that will be written in book pages and articles 30-years from now that'll bring cold sweat down our backs just from reading it.
We will talk about these days, weeks, months to the next generations (hopefully I'll be there for them!), just like our grandparents talked about the days when there was war. This might be a modern war. At least this war is not humanity against humanity (which is the saddest, stupidest and worst thing) but against a tiny, strong, and very angry organism that wants to teach us something. I hope we'll learn our lesson and we can move on soon.
But until that day, I'll be just going with the flow, trying to figure out what the heck to do with the time I save by not driving, not travelling, not eating out, not sitting in the movies or on the soccer field watching my daughter play or handing water to my son at a fencing tournament. I'll be redecorating the house, cook delicious and healthy food, maybe clean and organize the garage and write lengthy blog posts. Sounds like a plan...
April would have been the month when I would visit Milan, Italy. Where I would learn about all the new products at Salone del Mobile, meet my sister and drink Aperol Spritz, cappuccinos and eat pizza and pasta at the Duomo, walk so much that we can't feel our feet, and sleep five hours a night because that's all the time we have for sleeping and recharging for another year. I've waited for this week all year.
This time it's not going to happen as Salone del Mobile 2020 is officially canceled. And that was the right thing to do. I'm heartbroken for Italy, for Milan, for all the people getting sick there and all around the world. I miss Europe so much and I hope there will be airlines that survive and we will be able to travel again and there will be restaurants that will reopen and Italian streets will be full of people again next Spring for the Design Week.
In a few months this will be a bad memory, we will also be smarter and we will implement new ways of living, working, using space and time. I hope we will hug each other a little stronger and hold those hugs a little longer. We will learn that all these things we have are not guaranteed, so we will appreciate them more.
They say being grateful is the secret of happiness. I hope we as a human race will be happier after this is over.
As I'm grateful for all my adventures and experiences that have led me here, to this very moment, as a reminder, I'm sharing some pictures of last year's incredible Salone del Mobile. Here's to what the future holds and everything bright and wonderful that comes with it -- Enjoy!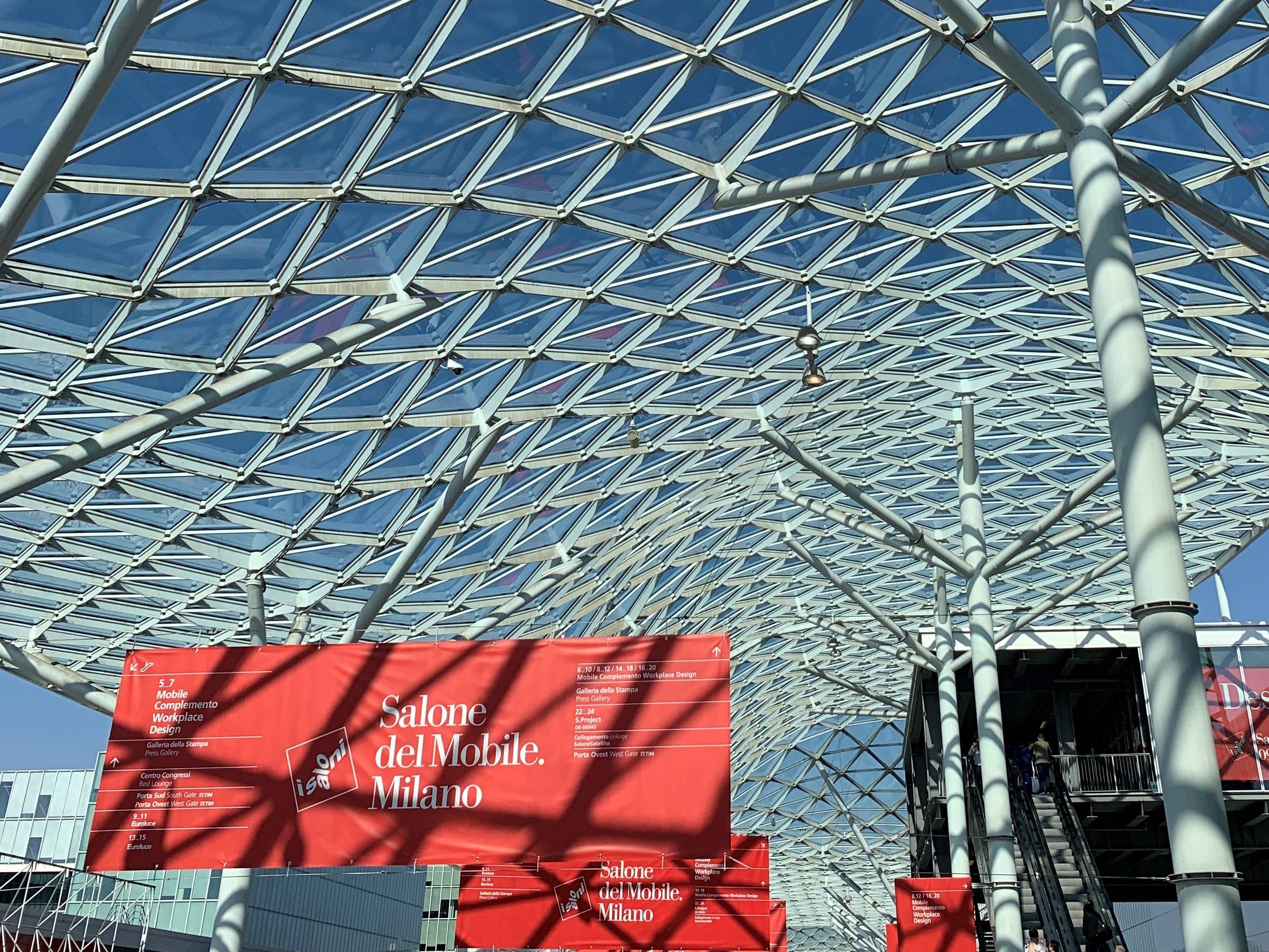 Milan celebrated the 500 year anniversary of Leonardo DaVinci in 2019. He stayed in the city the longest and left left an indelible mark in the history and artistic production of the entire region of Lombardy. I went to see the AQUA installation at at the Conca dell'Incoronata, the wooden gates of which were designed by Leonardo, where Water played a starring role, as an element that Leonardo explored as an artist, an architect, a scientist and an engineer.
The Conca was covered over with an architectural insert in the form of a great expanse of water, on the edge of which a huge LED screen became a window onto a future Milan, showing a skyline changing according to the time of day.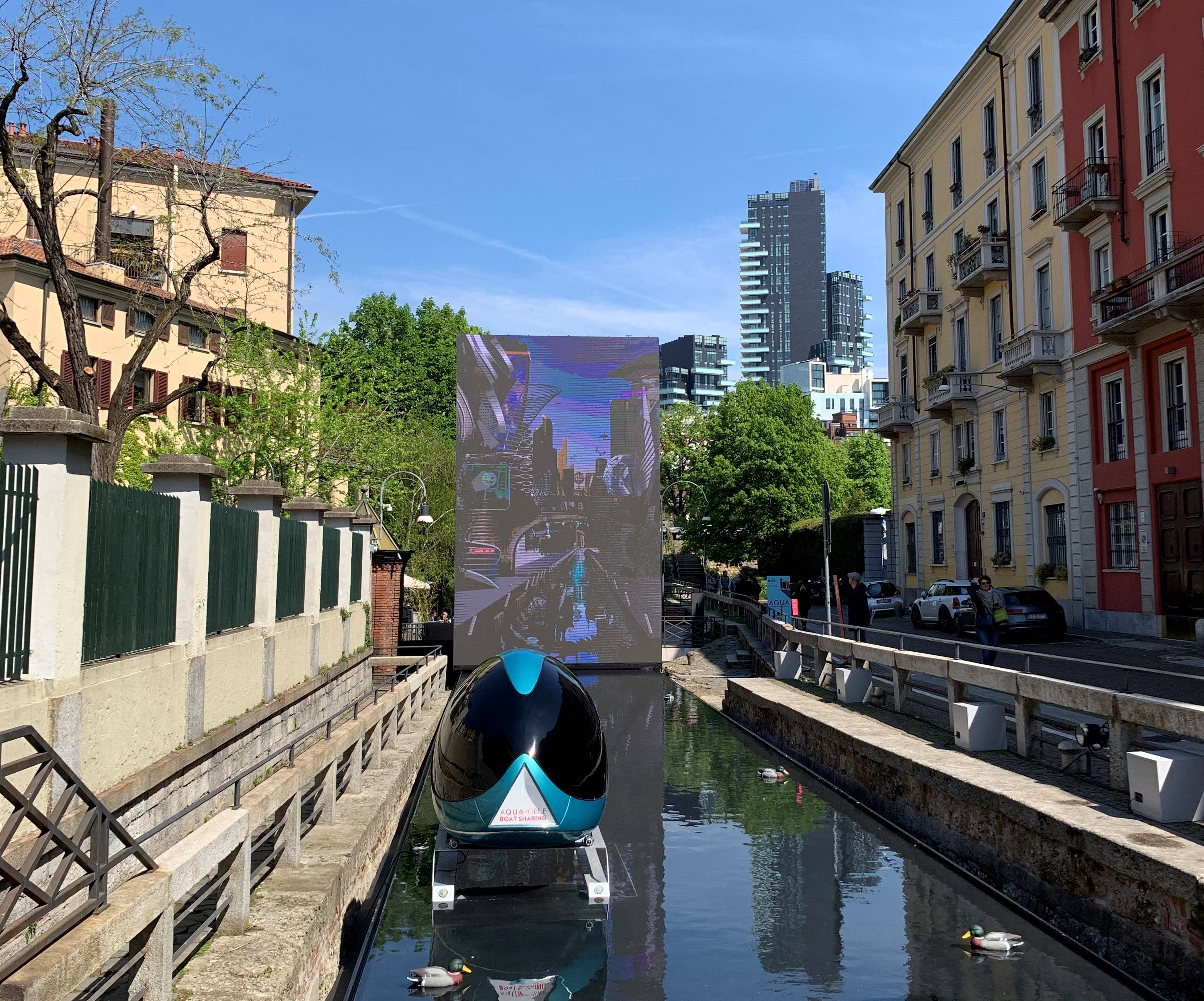 Salone del Mobile is one of the biggest furniture fair in the world, but the Fieramilano ( where the exhibition takes place and therefore I spend most of my time ) is not the only place to go to in Milan. In that week in April, the whole city turns into a design mecca that 500.000 people, who are hungry for art, architecture, design and the free flow of creative energy visited last year. Crazy number, the whole city is literally buzzing 24/7.
The Brera District is especially crowded and busy with parties happening every single night in the world most renowned furniture and design showrooms.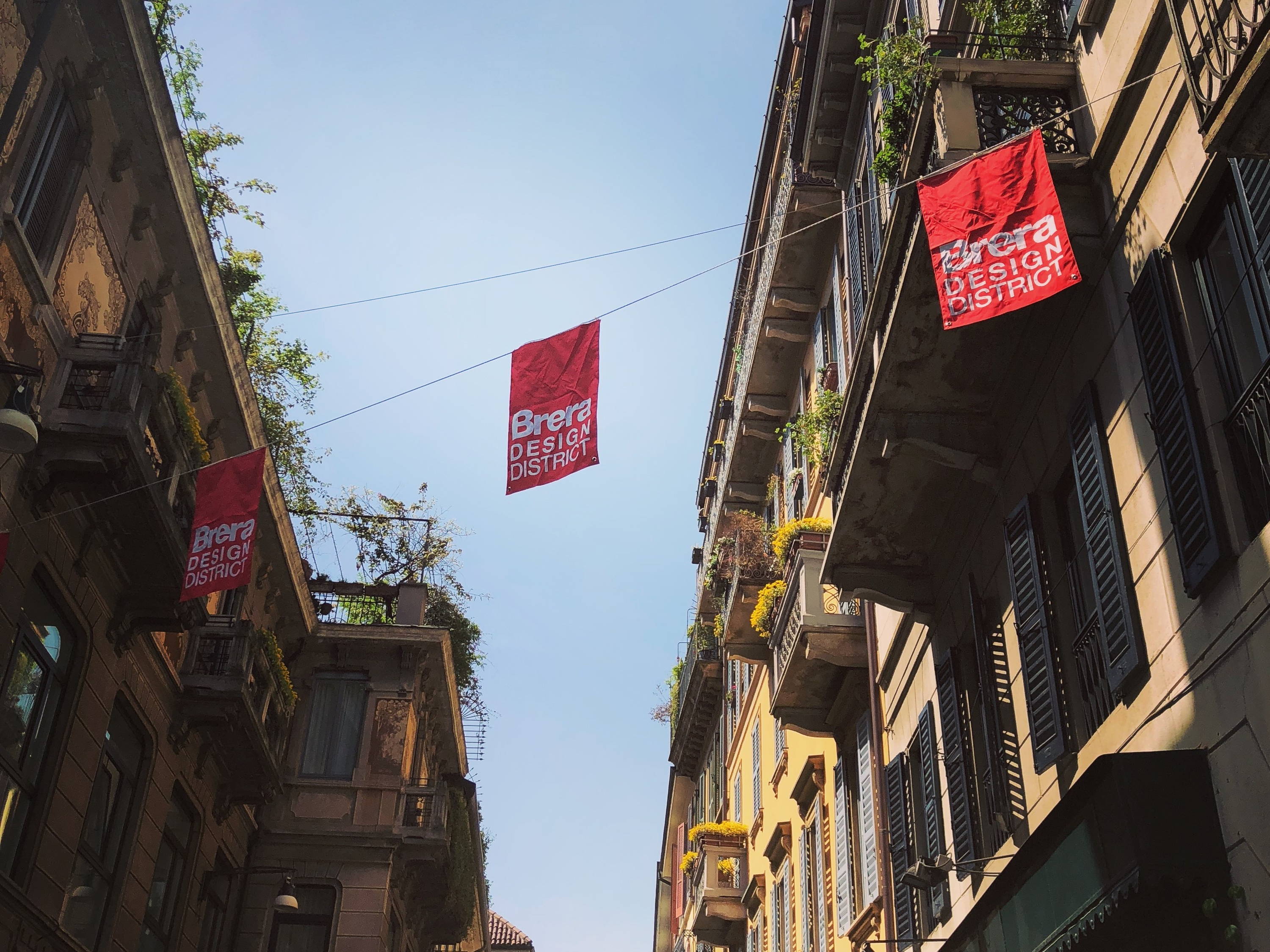 Thanks to some amazing people in Los Angeles who are doing their best to hold our "little" design community together even in Milan, I had the chance to have coctails in the garden of the beautiful Bulgari Hotel with them, to check out everything new and awesome in the GESSI showroom, where we always have to fight for our drinks, but it's still fun. I was there when Dolce&Gabbana introduced their new collection they designed for SMEG...and so on. So grateful for these experiences. And the designer in me gets super inspired and taking tons of pictures. :-)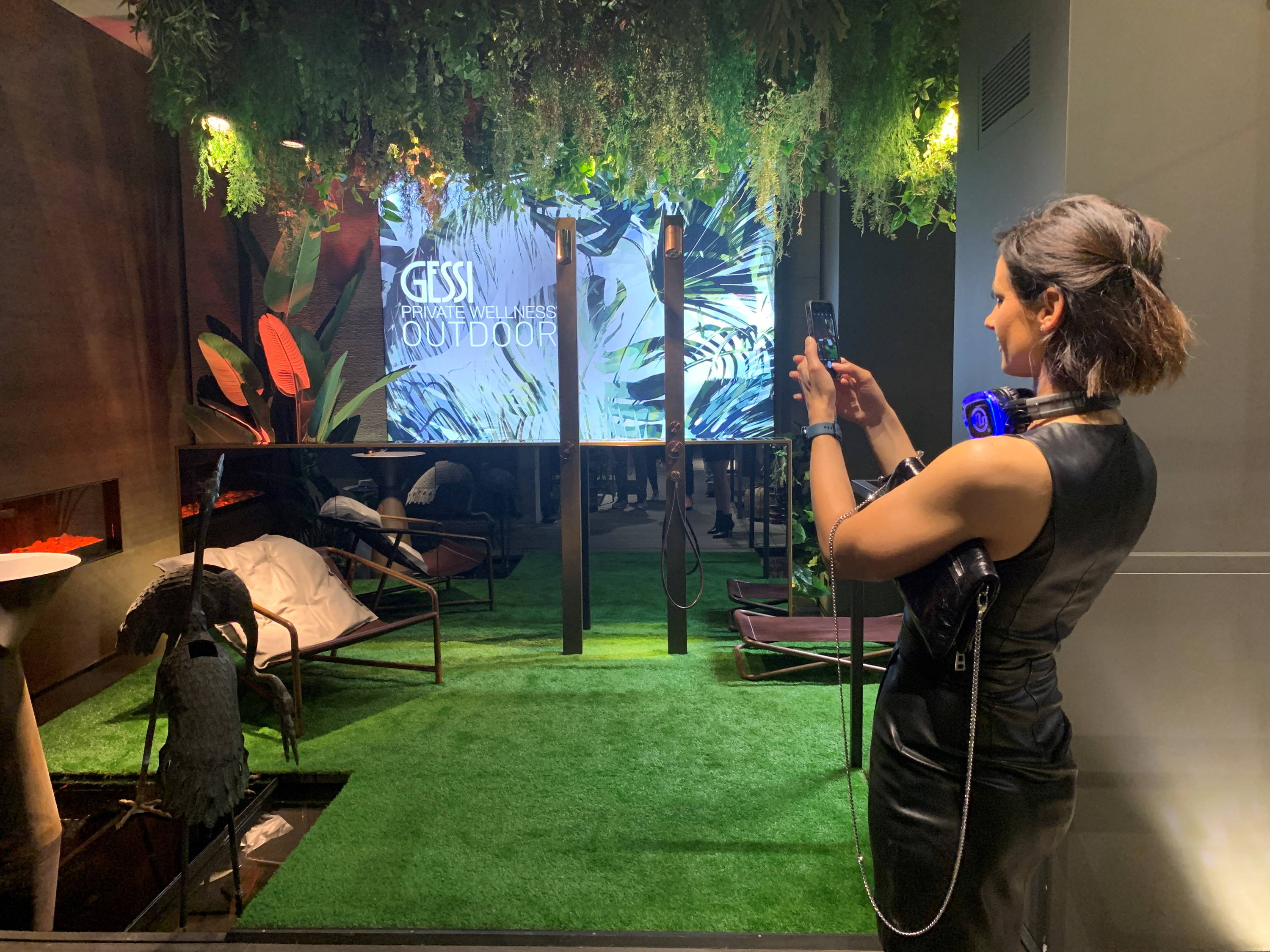 Last year I decided to remove myself from the buzz for a day, and for the first time ever, I took the train and visited the beautiful Lake Como. It was heavenly.
And finally, let's talk about the reason I visit Milan every year ( other than having the time of my life for a week ), the new furniture collections.
Almost all the manufacturers we work with showcase their new products. VARASCHIN, PEDRALI, POINT, ARRMET, TACCHINI, CHAIRS&More and JOLI are there with their booths. It's so nice meeting with the people I work with all year, sitting down for a coffee, talk about family, life and products of course. With all manufacturers we work with, we collaborate for a reason. That reason is not only good products. It's also a similar mindset, that you only feel in person. All of these people are passionate about what they do, they really believe in their company, their products and it's so inspiring! It's like finding friends and start working with them. You know you'll figure everything out together.
You can find many of the products introduced last year on our website here and here for outdoor products. I'll just show you some pictures I took of my favorite products last year, that you won't find on the website. ;-)
The Summerset Collection from Varaschin is one of my favorites and now it's available in Bronze. Love it!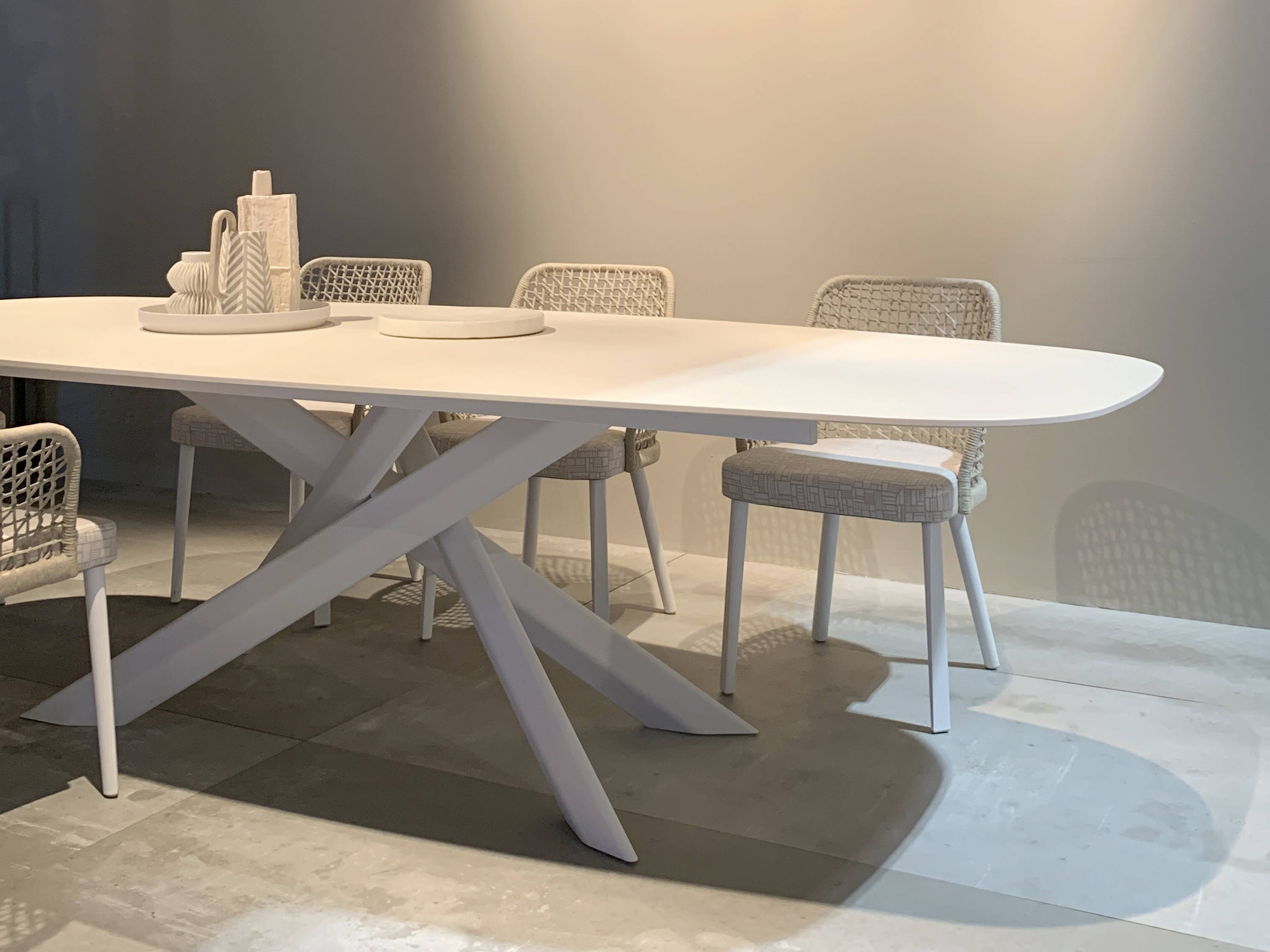 I also loved the SYSTEM Star Dining Table designed by Lo Scalzo Mosceri ( who is the design director of Varaschin BTW ). Airy and durable!
PEDRALI never disappoints when it's about impressing us. One of last year's big takeaways was the Hera Chair with it's gorgeous lines and colors...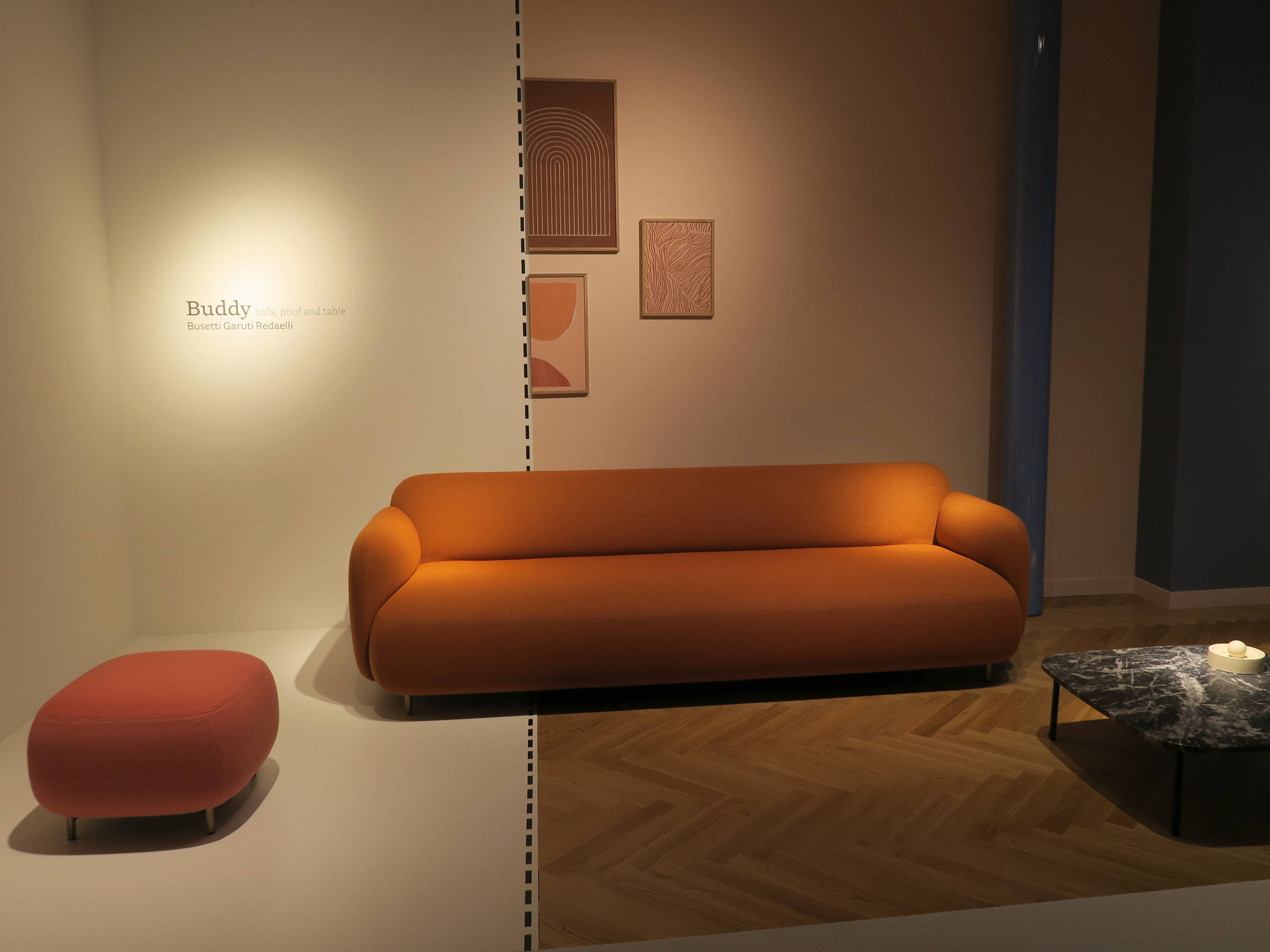 ...and since I'm totally in love with the BUDDY Collection, they made me happy by introducing a 3 seater sofa .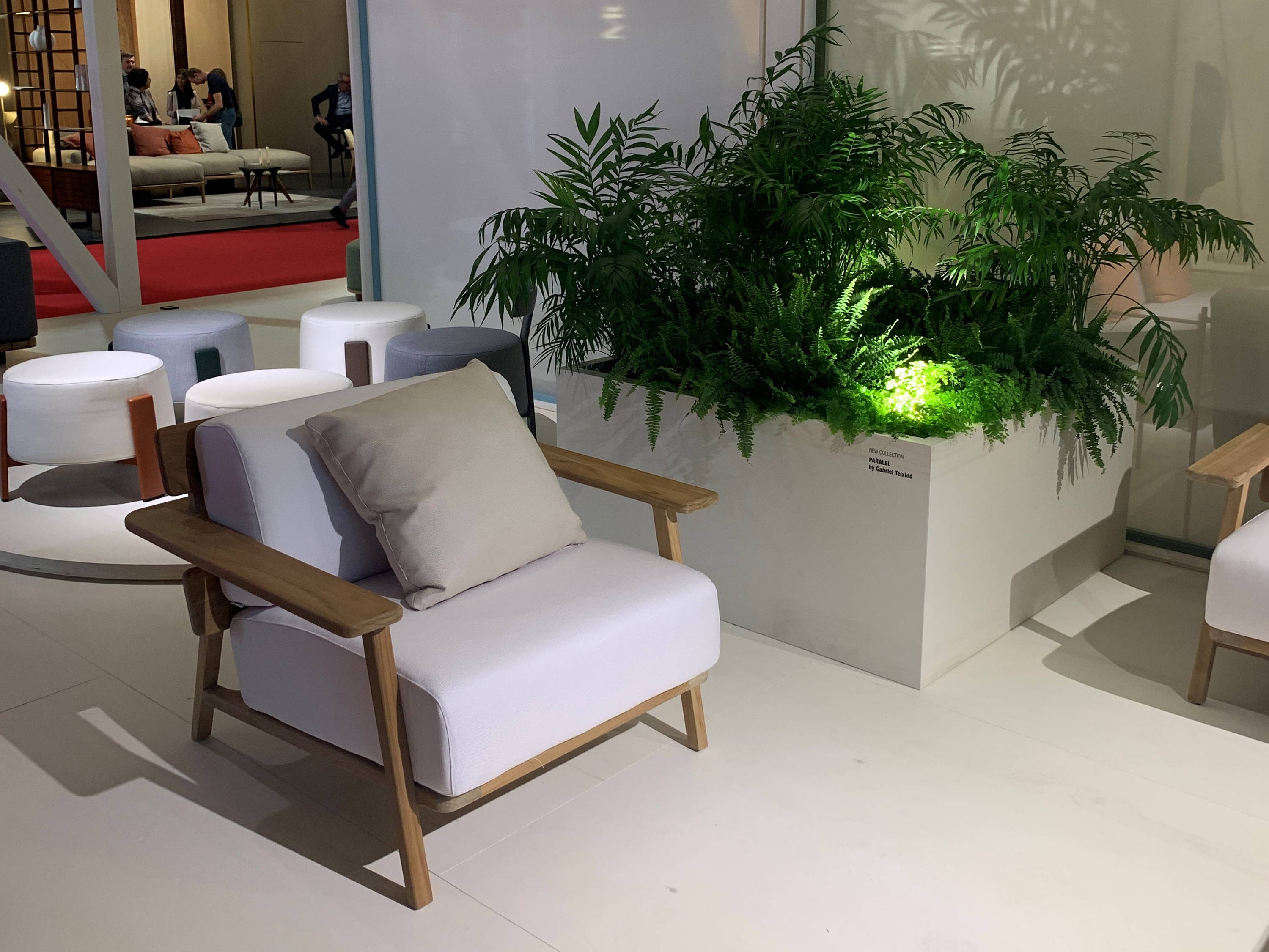 I'm happy to see that teakwood is having a comeback and the PARALEL Collection from POINT is a great example for why we all love this material. So smooth and warm.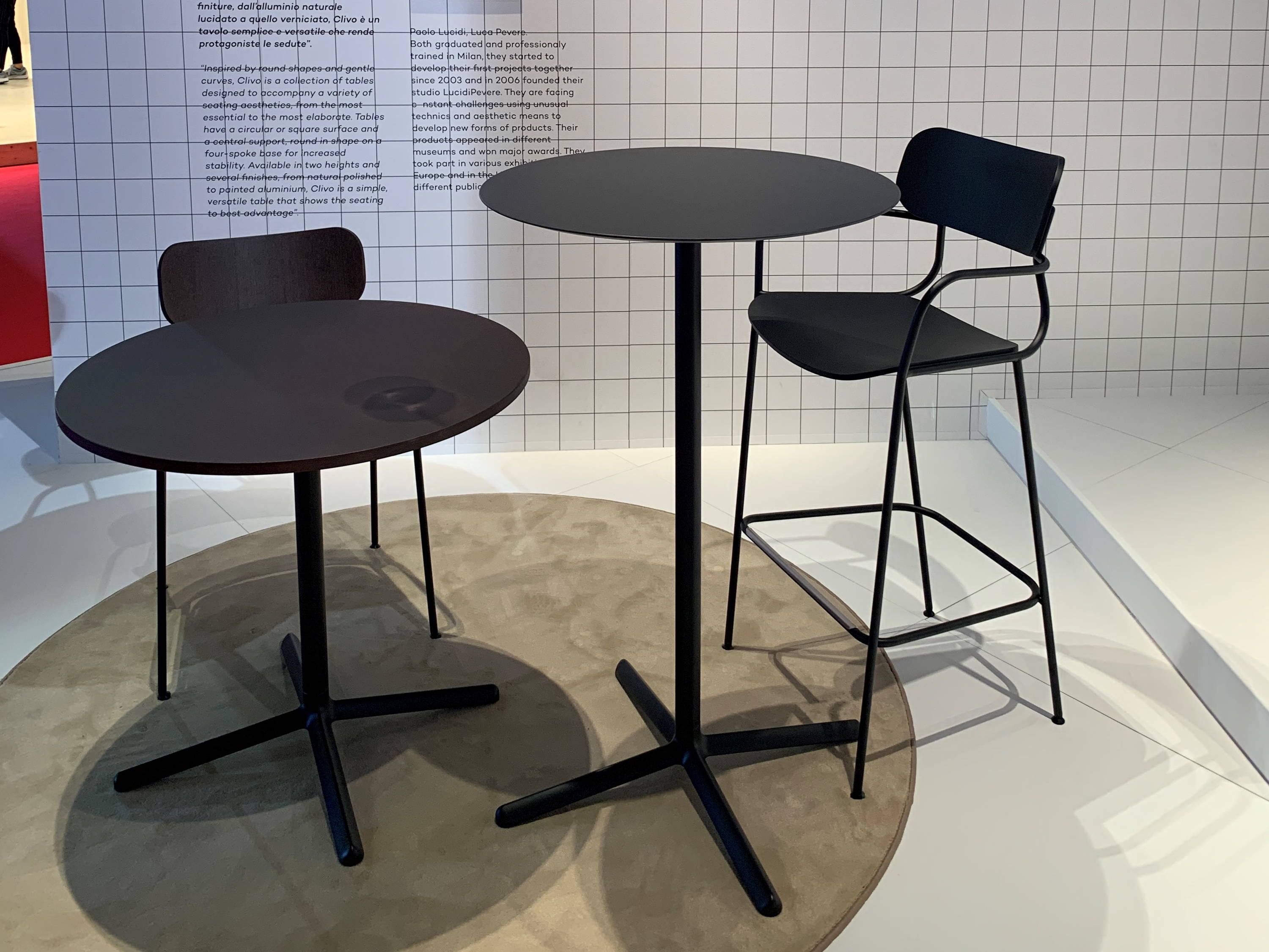 The KIYUMI Chair and the CLIVE Table from ARRMET are also 2 cool looking product lines.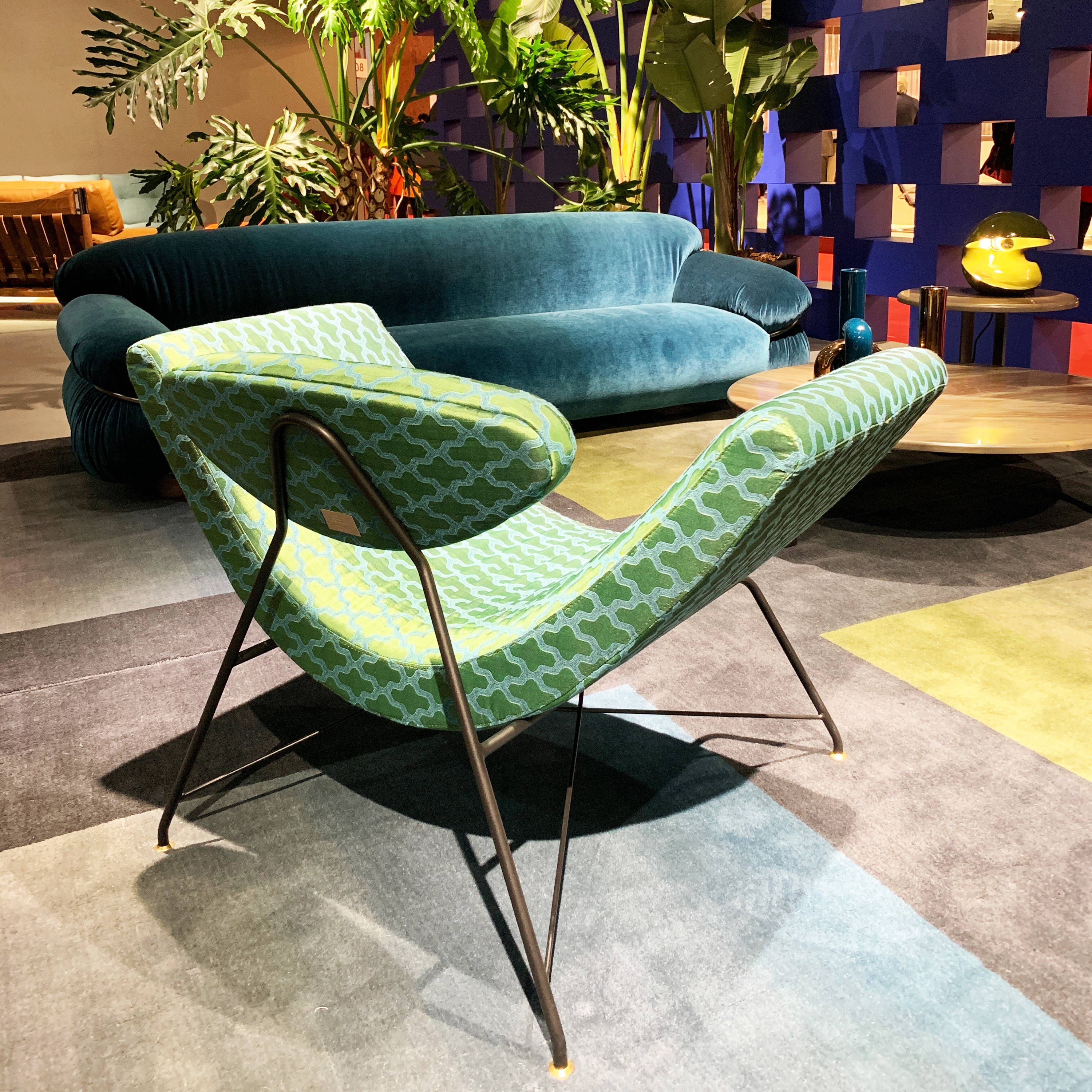 Sesann Sofa in an extremely cool blue velvet upholstery in the background, the new Reversivel Chair in the front. Both from TACCHINI.
Totally fell in love with these Costela Chairs, also from TACCHINI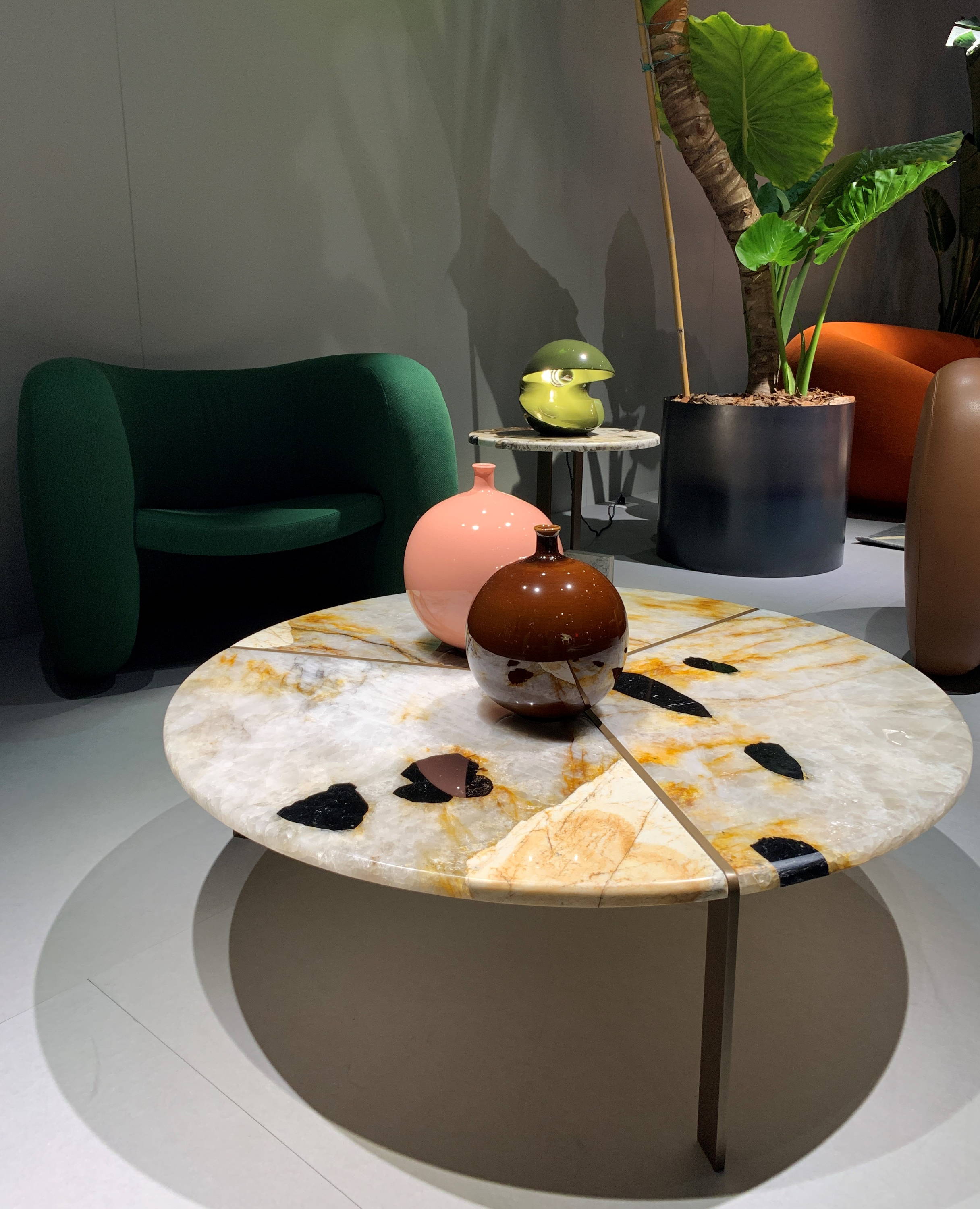 Joaquim Coffee Table, Lagoa Lounge Chair and Tacchini accessories
I'm sure the 2021 Salone del Mobile and the Design Week will be epic, can't wait to celebrate next Spring in Italy!